Professor Yeon-Kyoung Chung Received the Presidential Citation for the 2022 Archives Day
Professor Yeon-Kyoung Chung of the Department of Library & Information Science received the Presidential Citation in celebration of the 2022 Archives Day.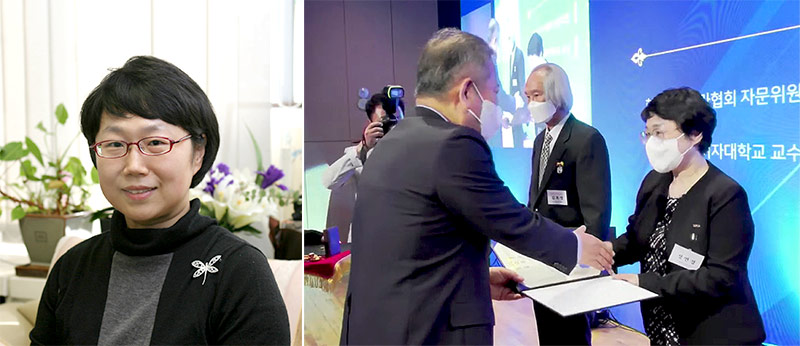 Professor Yeon-Kyoung Chung / 2022 Archives Day ceremony
International Archives Day (June 9) was set up by the International Council on Archives (ICA) in 1948 with the aim of growing global consensus on the importance of archives, and also decided as Korea's legal anniversary, marking the third anniversary this year.
National Archives of Korea of the Ministry of the Interior and Safety held a ceremony to commemorate 2022 Archives Day at Nara Repository auditorium on June 9 (Thu) and praised individuals and organizations for their contribution to the development of archives management and promotion of archive culture. More than 400 domestic and foreign guests and archive officials including Lee Sang-min, Minister of the Interior and Safety, attended the ceremony held under the theme of "Preparing Tomorrow by Archiving" both on-site and online. Professor Chung was honored with the Presidential Citation in recognition of her contribution to the development of expertise in archives management by serving as a member of the National Record Management Committee and policy specialist.
Professor Chung is an authority in information organization, archives management, and related education, and has been training excellent students in the knowledge information field since she earned a Master of Library Science and Ph.D. from Indiana University Bloomington and started teaching in Ewha Womans University Department of Library & Information Science in 1995. She has conducted a lot of research in the field of information organization, especially classification and subject headings, subject analysis and approach, record organization, and record management education for the last few decades. As the head of Ewha Womans University Institute of Archives and Records Management, she is contributing to its status as a professional, leading, and scientific education institution for record management.
She also served as the first member of the Presidential Committee on Library and Information Policy of Korea and a member of Prime Minister's National Archives of Korea Committee, and as the head of Korean Society of Archives & Records Management and catalog division of Korea Library Association. She is currently serving as the head of the Korean Biblia Society for Library and Information Science and publication director of Korean Library Association.